Andrew Donovan has been working in pubs, small bars, restaurants, conference centres and hotels since he was old enough to get through the front door. Travelling and working around Australia and Europe, Andrew originally studied software engineering till he recognised that his part time job was more than just a means to an end; it was his passion and his calling. Andrew has held General and Venue Management positions in some of Perth's most iconic venues: The Royal, Raffles Hotel, The Brass Monkey, Queens Tavern, Belgian Beer Cafe, The Saint George Hotel, Captain Stirling, Hyde Park and the Balmoral.
Leadership and Learning
What are the most important traits that every leader should possess?
I believe a leader needs to be fair and demonstrate consistent behaviour at all times
The ability to have perspective on people's angles when others' hold differing points of view or positions
Always lead from the front and get your hands dirty
Understand that 'the buck stops with you'; so be accountable
The leader or manager has one job to do - make their bosses' job easier!
Who has been most influential in your career and why?
Suart Websdale
Director of the Moller Centre attached to Cambridge University
Stuart was a founding member of the corporate residential leadership training centre attached to Cambridge and his management style left an everlasting impression on me. He always had time for you; or he would make the time for you. He valued sharing his knowledge with his team and truly believed that culture mattered. His philosophy enabled a phenomenal staff retention strategy. He was truly a people enabler.
Lyndon Waples
Managing Director Australian Leisure Equity
Lyndon was my boss when I worked for the Colonial Leisure Group. The reason why he is influential in my life dates back to a conversation that he had with me as I was complaining to him about the performance of one of my supervisors. [We still laugh about this incident to this day]. After I finished my rant, Lyndon looked at me and said 'I pay you to make my life easier. So why am I paying you'. This comment just resonated and has stuck with me ever since. The role of the leader is always to make their bosses' life easier. He taught me to own the role you are in, particularly if you are in senior management and that you are paid to manage; so do it well! Lyndon is a consummate professional who shaped and developed my General Manager toolbox.
How do you stay relevant and current in your knowledge?
I go out an awful lot; I am always engaging in competitor research. [Well that's what I like to call it!] I frequently research what's going on around the world, looking at the latest trends in the restaurant and bar markets. I really enjoy remaining informed and looking for ways I can innovate business.
Moments in time
What are the two most pivotal moments in your career that you either learned from or got you where you are today?
Working under Stuart Websdale at the Moller Centre. I was so under-prepared when I got the position as Food and Beverage Manager in the residential leadership development centre. The one thing I had going for me was enthusiasm and an unwaning desire to succeed. At that stage in my life I was happy to work 12 hours a day, 7 days a week, as I was truly learning on the job. I am happy to say that 12 years later I am definitely more in control!
My second pivotal moment would have to be my first General Manager position at The Royal. It was the first time I had earned the right to the title and was trusted to develop the capabilities to perform.
Your advice
How do you stay motivated?
As cliché as it sounds, I enjoy working in the industry. You may as well work in a job you like and you may as well do it well! Being around people has always motivated me; I value and enjoy the human aspect of my job.
To recharge my batteries, I do enjoy a day on the couch with no one to talk to but the dog and watching a couple of great movies.
When do you think a person should make a change in their career?
I really believe that you should love what you do; so I guess my answer would have to be the minute you stop enjoying your job. It's fine to move on if you feel unchallenged, or it's time for a sea-change. Do what you do well, with passion. Otherwise don't do it at all.
Your thoughts on Perth's market
You have been exceptionally successful in hospitality, what's your advice to someone contemplating starting their own venture?
You have to be the right person; a risk taker and enjoy the freedom of working for yourself. You need to be comfortable investing millions on a concept you believe in and definitely need to take a long term view.
What's your current perception of the Perth hospitality market? Where do you see its future direction?
It's an interesting market, flooded with operators all vying for the same consumer's dollar. The upside is you have to focus on quality and experience to stay in business; the downside is that hospitality professionals [those who choose hospitality as their profession] are thin on the ground. It's challenging to keep frontline staff and supervisors; they are all desperate for a new challenge and a quick promotion.
The future is definitely the survival of the fittest. An operator who does not pick up their game and adapt the quality of their offering will see quick demise.
What's the key to making profit in this market?
Have faith in your brand. Don't get carried away on what you think your venue wants - listen to your customers. People want good service and good quality. Watch your margins, listen and adapt.
What's the most common service mistake you encounter in Perth venues?
Pretentious staff; I hate it when they talk down to you and don't engage. They talk at you; as opposed to informing you. I come from the school of questioning. Ask great questions of your customers, share your enthusiasm and knowledge of your unique offering and give them what they like and want. Bullshitting to cover a lack of product knowledge turns me cold!
Just for fun; Let's get to know you better!
Are you coffee or tea?
Coffee all the way! 10 espressos a day!
Describe your perfect Sunday?
Sleep in, take the dog to the park, head out for lunch and quietly indulge in too much market research, then head home to spend the rest of the afternoon relaxing with my beautiful partner Stef.
If you could only hear one song for the rest of your life what would it be?
Blue Lines by Massive Attack.
Dream home….city or country?
City. The country is great to escape to for a couple of weeks but I love the vibe and the hustle of the city.
Tomato sauce….pantry or fridge?
It's the fridge; everyone knows that!
What's the most exciting thing you have done over the past year?
Sky diving! It was given to me as a present – absolutely sensational! Best present I have ever been given.
What's left on your bucket list that you are dying to do?
Visiting South America; it really interest me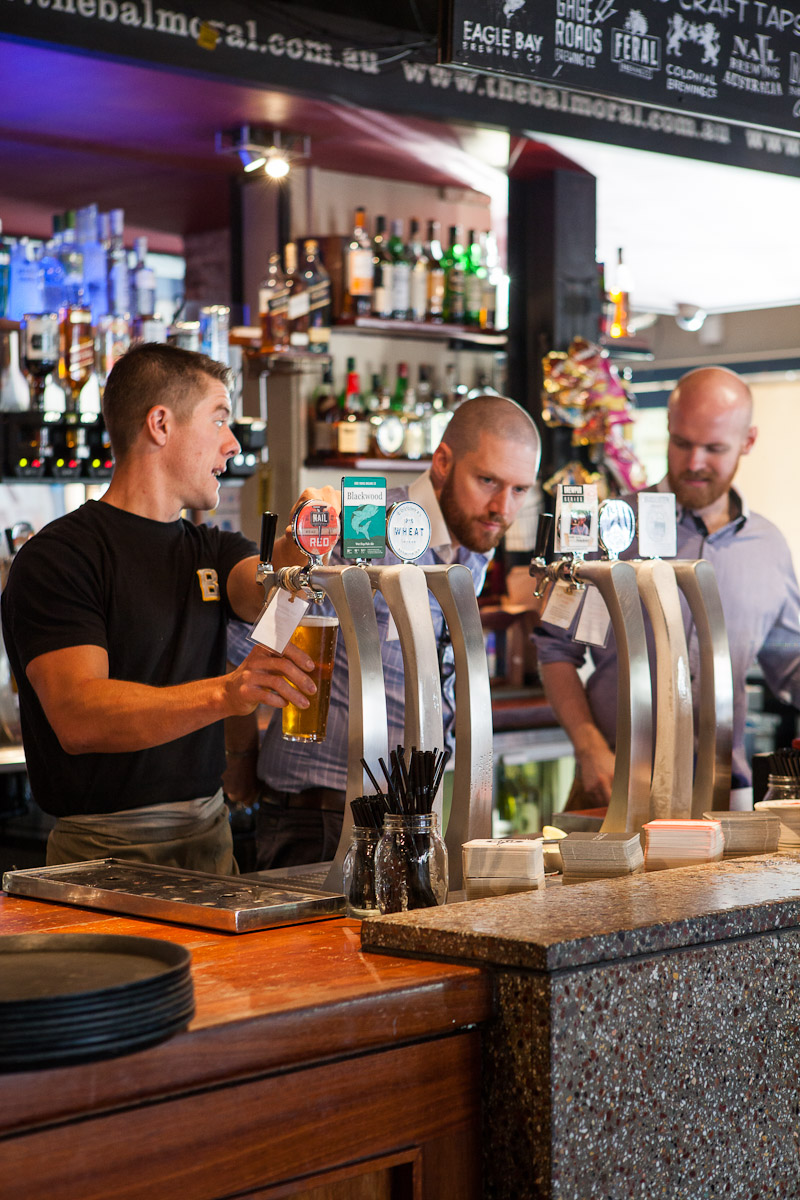 We hope you enjoyed the time we spent with Andrew hearing his thoughts and strategies on leadership and the state of the Perth hospitality market; if you loved the article be sure to hit ❤ and share, so that your friends can enjoy it too! Better still.....leave us a comment below!